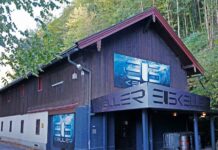 On Monday afternoon, the body of a young woman was recovered from the Prien River in Bavaria. The police are assuming a homicide and are asking for information.
Aschau im Chiemgau – To clarify the violent death of a young woman in Upper Bavaria, the police are looking for photos and videos from a music club. A police spokesman said on Wednesday that material was in demand that had been made from Sunday evening in the "Eiskeller" in Aschau im Chiemgau or in the vicinity of the disco. Anyone who has pictures, audio files or films can make them available to the police via a link on the Internet.
About 40 investigators are trying to clarify the homicide. "There are still a lot of people we need to hear," said the police spokesman. Among them are club employees and hundreds of guests who were in the disco from Sunday evening. The victim, a 23-year-old from Aschau, had celebrated that evening in the "Eiskeller". Hours later, a passerby discovered the dead body of the young woman from the Upper Bavarian district of Rosenheim in the Prien river – about ten kilometers from the club.
"The autopsy took place on Monday, but we don't have all the test results yet," said the spokesman. He did not want to name the cause of death for investigative reasons, but it is clear that the 23-year-old died violently. Whether there is also a sexual offense has yet to be determined. "We don't rule that out." dpa