The Kunsthochschule Halle promotes traditional silk handicrafts in Central Asia with a project. In addition to sustainability and the development of improved dyeing recipes, it is also about a collection for the European market.
Halle – The Art College Burg Giebichenstein Halle is helping the silk craft in Uzbekistan and Tajikistan with a project. It's about the revival of the traditional Ikat weaving technique. The special thing about this technique is that the yarn is dyed in sections before processing.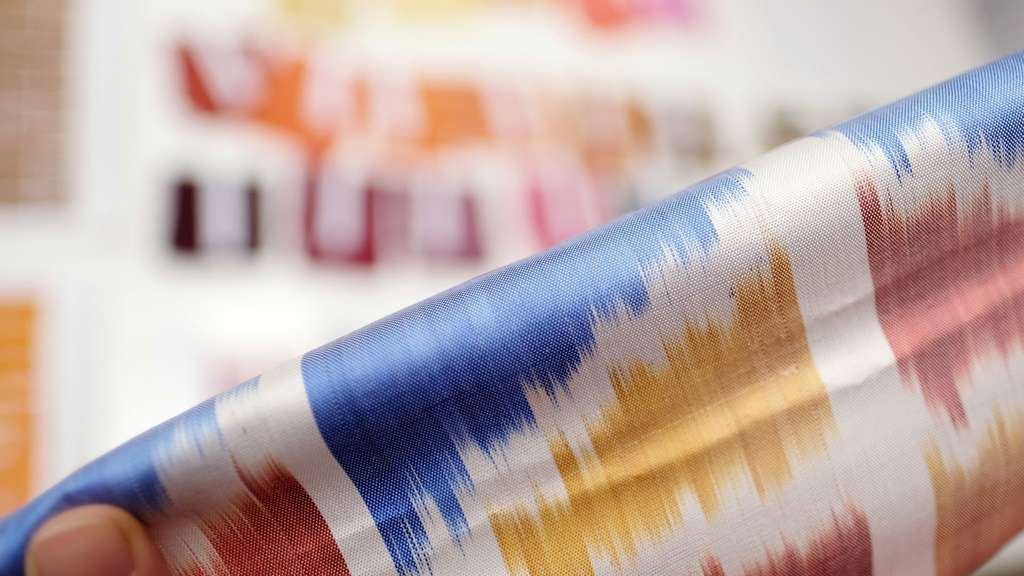 "We want to see how we can make production more sustainable," said Professor of Textile Design Bettina Göttke-Krogmann. "At the moment the focus is on dyeing. It is very important to us that we develop something together with our partners. We don't just want to say how to do it, we try to find common approaches and solutions. Because at the same time we want to learn from the local craftsmen, because they have a lot of experience. "
Improve the luminosity of the colors
The project staff at the art college are currently researching regional dye recipes. "We are looking for the optimal dye recipe to improve the luminosity of the colors," said the head of the dye works, Lisa Runkehl. "This is associated with an improvement in durability, such as washing and lightfastness. Material and water usage reduced to a minimum ensure sustainability in production. "
Nine dye plants such as indigo, henna, pomegranate, walnut and onions are used. This has resulted in 36 improved dyeing recipes so far. The knowledge is then available to the craftsmen of these countries.
For clothing in the upscale luxury sector
"Together with the people on site, we develop patterns and patterns for appropriate clothing. A small collection is to be created from autumn 2022. In the end, the pieces should be shown at a fashion fair in Germany, "said Göttke-Krogmann. "We don't see it as a mass market, more in the upscale luxury segment."
The project "Rutsis – Reviving Uzbekistan's and Tajikistan's Sustainable Ikat and Silk Production" is funded by the European Union. dpa