Alberto Puig , Honda team manager, spoke this Saturday from the Argentine paddock about the injury of Marc Márquez, who suffers from an eye problem that keeps him at home while waiting for a recovery that will allow him to compete again.
During an intervention on the DAZN platform, Puig was raised with the debate on whether Márquez, after so many injuries and falls, should face a change in his way of approaching the great prizes, trying to take fewer risks.
"We have to clarify the situation a bit, he had the episode of the hearing the other day, if we look closely the falls were brutal, but he had fallen many times before and nothing happened to him. He had this incident last year, but nothing had happened to him since 2011, we cannot think that every time Marc falls he will have this problem. What happens is that Mandalika's falls were brutal, the last one especially, it was horrible. We have all run, we have fallen and it was a very ugly fall", admitted Puig.
A new eye injury that is beginning to be worrying, since it is the fourth in the runner's career and the second in a few months.
"Logically we are worried because we started well in Qatar, then this happened and he cannot be here. But there is a lot of championship left and I cannot put myself in a negative mode and think that we cannot do well. Worried yes, for him, but the thing is not For here, we must move on."
In the midst of this very negative streak of injuries, since July 2020 when he crashed in Jerez, they asked Puig if Marc should take the return, this time, more calmly.
"Honda and Marc the only objective they have is the championship, things in the races change very quickly, if we take that reference, Indonesia was a disaster. But Qatar and the tests went well, the new bike, from the beginning, the riders they think it's working well, the situation isn't the best, but with 20 races ahead you can't think that we started badly or be negative, maybe we have to give the races another approach, but we can't forget that Marc is Marc and that everything what he has won has been his way, and he has eight world titles."
"Honestly, I don't know if we should change the approach to racing, what I do know is that people don't change. It is possible that running like Marc did before worked for him and now we have to adapt it, but we are also evaluating a fact that went wrong , but if it had gone well the question would be very different".
Puig even maintained that without the shock suffered by the pilot, despite the falls, he would have been able to run.
"The problem is that he did not run the race due to concussion (he was declared unfit), if he had not had that problem, despite the crashes he suffered over the weekend, we think he would have been ahead in the race, fighting for victory. Then it was in the wet and it is unknown, but in the dry we know that he would have been ahead", he revealed.
What the Honda executive highlighted is that Marc, no matter what happens, always tries again with all his might.
"After everything Marc has been through, he hasn't seen any rider who does what he does. When a rider gets scared it's over, and Marc has never had it, neither with the falls he has suffered nor with the injuries he has reached that fear zone.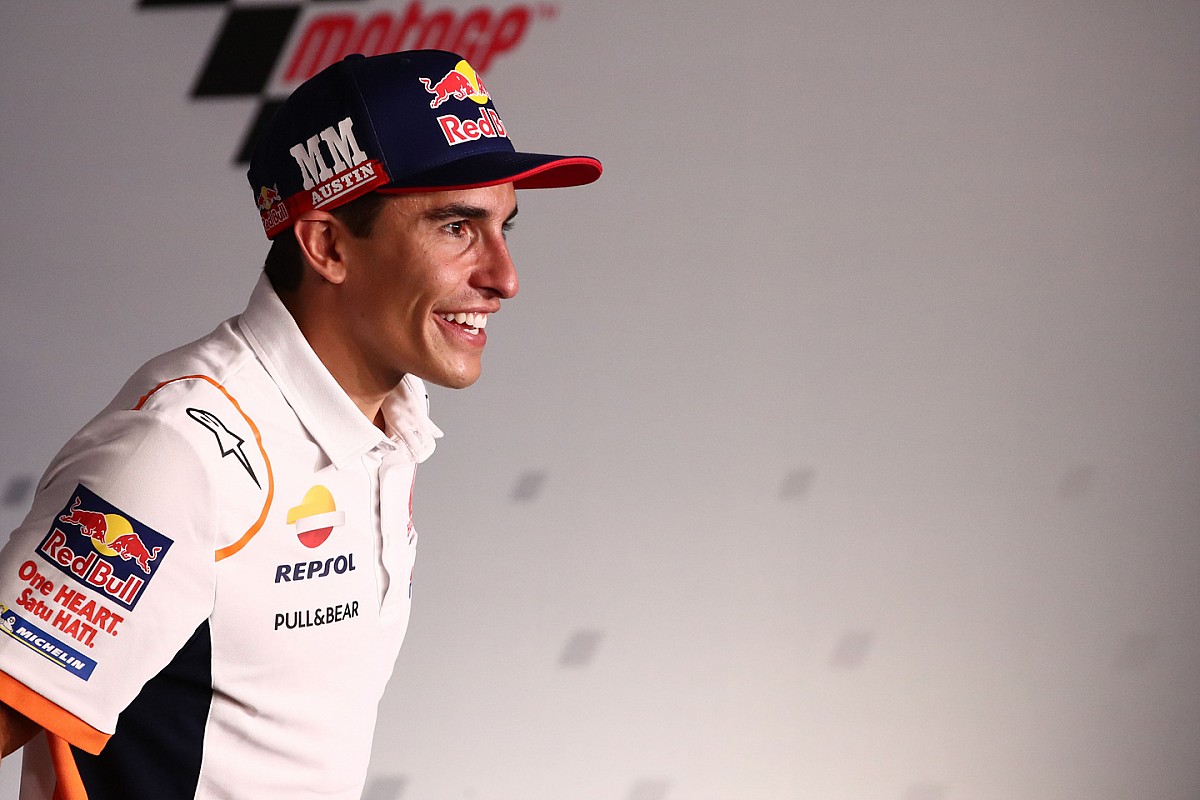 Photo by: MotoGP
Puig introduced an interesting variation on strategy changes.
"I don't know if the focus needs to be changed, not so much for him, more for the category as it is, how the bikes are and the equality that exists right now. You can still look for another type of strategy, but changing Márquez completely I don't think it's no solution".
In recent years things have evolved and changed a lot, before we all knew what we had, now we all go the same, Aprilia comes to you and makes you pole position. I don't see a radical change in Marc's style, and I want to insist that we are judging a fact because it went wrong, if it had gone well, we would be talking about something very different.
Puig remained positive throughout and gave optimistic hints about a possible return of the pilot even earlier than expected.
"We all know the issue of the bones, with a fracture they put a plate on you and you run. The issue of sight is very complex and they cannot give you an exact date to return. From last year's reference (three months off ), we were very scared in Mandalika, but now the progression has been very fast, I can't say that he will come to Austin (Honda does not rule it out), but the recovery is being very fast, "he said.
"In these situations the easiest thing is to throw in the towel, but the first one who never does is the driver himself who is at home annoyed, and we have to follow his rhythm".
Regarding the future of the pilot for a season as long as 2022, Puig does not rule anything out.
"The future is uncertain for everyone and nobody knows it, but it is clear that you have no future if you see everything black," he said.
"The good thing about sight is that you see or you don't see, if you break an arm you come back and you have a handicap, but with sight, when Marc comes back he will see well and, therefore, he won't have any handicap and he will be able to fight to win from the first day. When Marc comes back, and he has it incorporated as standard, he will surely do it to fight to win," Puig settled.