Everything seemed set for Porsche and Red Bull to be together in F1 for 10 years, joining forces on the energy drink team's engine program and sharing ownership of the team with 50% for each of the two parties.
The cooperation was expected to be announced at the Austrian Grand Prix in early July , before the FIA delayed the final wording of the 2026 engine regulations. Moroccan legal documents soon arrived setting August 4 as the date for the deal was formally announced, but that day came and passed.
Before the summer break in August, Red Bull team principal Christian Horner began to stress the importance of anyone interested fitting into his team's "philosophy and DNA" and stated that a process was still missing. evaluation. Then, at Spa, Audi unexpectedly jumped ahead of its sister manufacturer Volkswagen Group by announcing its involvement in F1 in 2026 [they revealed only their plans to build the engine, before revealing that they would take over Sauber some time later].
And after failing to agree on the role that both Red Bull and Porsche would have in the Grand Circus team, negotiations first stalled and then fell flat. Red Bull dominates Formula 1 today and is confident that it can do so without having to cede 50% ownership to a major brand.
On the Friday morning of the Italian GP weekend, Porsche finally confirmed that the potential marriage to Red Bull had been called off. The brief statement said: "Over the course of the last few months, Porsche AG and Red Bull GmbH have held discussions regarding the possibility of Porsche entering Formula 1. The two companies have now come to the joint conclusion that those discussions They won't continue."
"The premise was always that the association would be based on equality, which would include not only an engine association, but also the team. That has not been possible. However, now that the future engine rules are in, the category It remains an attractive environment for Porsche, which will continue to monitor its options."
Horner, for his part, told Motorsport.com: "Porsche is a great brand. But the DNA is very different. During the discussion process it became clear that there was a strategic misalignment.
"Red Bull has shown what it is capable of in F1. And obviously as an independent team and now an engine manufacturer, we look forward to competing against the manufacturers with our power unit as well as the chassis."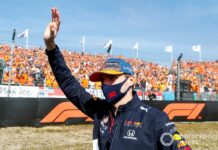 Red Bull did not want to give up a stake in its F1 team to Porsche
Red Bull's options for the future in F1 without Porsche
Red Bull is going ahead with its Red Bull Powertrains headquarters, which was built and opened in just 55 weeks. Having achieved the precise piston and compression ratio specification for the 2026 engine regulations, it has gone ahead with the development of its 1.6-litre V6 combustion engine. Before the summer break, the team has started to put it to the test on the power bench.
Part of the reason for the failure of the deal with Porsche is that Red Bull felt that the German manufacturer wanted to intervene too much. Therefore, your ideal partner is likely to be one who invests well but keeps their distance. Something similar to what they had with Tag Heuer when that firm took the place of Renault's stickers between 2016 and 2018.
In addition, Red Bull could form an alliance with another manufacturer that is also willing to sit out. Like he did when he wore the historic Aston Martin logo. This time, for example, Hyundai could be a way to explore. The Korean firm is continuing with its transition to electric vehicles but, despite this, they were involved with the change of the World Rally Championship to hybrid in 2022. A regulation similar to that of F1 could be enough for their logos appear on future Adrian Newey creations.
Honda is also known to be eyeing a comeback, having canceled its F1 engine program at the end of 2021 when Max Verstappen was crowned world champion for the first time. Now that the Japanese manufacturer's former series general manager, Masashi Yamamoto , has joined Red Bull Powertrains and the Honda engine remains in Red Bull cars as a rebadged unit until the end of 2025, that alliance may be revived.
In any case, given that Red Bull Powertrains is already preparing its engine for 2026 and is listed as a power unit manufacturer, there is a three-and-a-half year window to land a sponsorship, something Porsche cannot afford.
That kind of commercial interest seems to corroborate Grand Circus chairman Stefano Domenicali 's view that, apart from Porsche, there are a number of other manufacturers keen to get into F1 today. Speaking ahead of the Italian GP, he said: "I can only say that Porsche is an integral part of the group that has discussed and is still discussing the rules of the new power unit that will come into force in 2026. We have all read Porsche's comments and Red Bull, and they will be the ones to decide what to do. But I think F1 is currently a very inclusive platform. There are also other manufacturers sitting at the engineering table who prefer not to come out in the open."
Will Porsche continue to look for a way into F1?
What will Porsche do to be in Formula 1?
The Volkswagen Group has made it clear what F1 – which is enjoying a huge audience boom – can offer Porsche. The world's second-largest automaker still firmly believes that the age-old motto "Win on Sunday, Sell on Monday" is true. And since the brand from Stuttgart is the sportiest in the organization, it wants to compete in the premier class, which offers much more commercial and public appeal than even after its record of victories in the 24 hours of Le Mans .
On the other hand, if Porsche divests from its parent company and goes ahead with its plans to go public, success in F1 will not negatively affect its share price.
Combining the benefits offered by F1 as it stands, with the signing of the 2026 engine regulations, which introduce a cost cap, stronger environmental credentials and a partial reset to give Porsche a better chance of being competitive from the start , you get to the last line of the statement they have issued. The fact that Porsche will not enter F1 with Red Bull does not mean that it will not enter the championship. Let's remember what he said: "Now that the future engine rules are done, the category remains an attractive environment for Porsche, which will continue to monitor its options."
Although Porsche wants to enter as more than just an engine partner and wants to take command of at least part of a team, there are still several ways to enter. When Audi was studying which team to make its offer to, before joining Sauber, it evaluated its options. The acquisition of McLaren came to nothing after initial talks, before the four rings studied Williams and Aston Martin.
After being acquired by the investor group Dorilton Capital in 2020, and coupled with the growing popularity of F1 today, the price of partnering with Williams has risen considerably. However, there is already a substantial overlap with Porsche thanks to the large number of former Volkswagen motorsport figures in the team. The fact that team principal Jost Capito , technical director François-Xavier Demaison and sporting director Sven Smeets have all worked on the brilliant Polo WRC program and are known by the German organization is not a negative thing.
Williams cuenta con personal ex de Volkswagen Racing
Similarly, Audi also conducted a feasibility study for Aston Martin. As Lawrence Stroll publicly splurges on money and is building an entirely new factory at Silverstone, it is heard in the paddock that the Canadian billionaire has an amount in mind for which he would sell the project, given the huge sums of money he has spent without yet having Big results. It would not be inconceivable that Aston Martin's road car side would also benefit, plausibly breaking away from its investor Mercedes and aligning itself more closely with Porsche technology.
And then there's what Michael Andretti's investment group could offer. Domenicali and the other teams have expressed resistance to the ex-McLaren driver entering an 11th team on the grounds that it would further split the prize pool and, they say, devalue existing teams. However, a partnership with Porsche may offer a tailgate for an entry.
Mercedes director Toto Wolff sees Andretti as having less to offer than a manufacturer. But a Porsche-Andretti relationship could allay some of the paddock's concerns. The Austrian commented: "If an international, multinational brand or group joins F1 and can show that they are going to spend X amount of dollars on their activation, on marketing in the different markets, that is obviously a value proposition. Totally different for everyone else."
Porsche supplying its all-electric powertrain to the Andretti customer team for Formula E's Gen3 leaves behind an already existing partnership that could, in theory, pave the way for a union in F1 as well.
However, to get to 2026 on time, the talks need to be fast. Porsche has until October 15 for the FIA to name it as an engine manufacturer if it wants in. Just over a month left…
The Andretti team in Formula E has secured Porsche powertrains for 2022-23. Could a similar deal happen in F1?
---
Do you want to read our news before anyone else and for free? Follow us here on our Telegram channel and you won't miss a thing. All the information, at your fingertips!