Motegi.- Jack Miller led the first and only free practice session this Friday at the Japanese Grand Prix (1.45.509), and the three contenders for the title finished behind, separated by a microscopic difference of 40 thousandths of a second, which which clearly shows the absolute equality that reigns this season.
A balance that surprised in an atypical training session, longer than usual and held at three in the afternoon local time, a scenario forced by the circumstances and that was not to the liking of all the participants.
"I didn't like it, it didn't give us time to work with the engineers between one training session and the next, as we usually do on Fridays. For us, for example, who don't have a test team in Japan, it cost us a lot. In the first two out on the track the bike didn't work, the electronics and traction control weren't properly adjusted and we lost a lot of time. It's always positive to have two sessions and a space to work with the engineers", Aleix Espargaró assessed at the end of the day.
Despite the atypical situation, the equality between the pilots was millimetric, 3 tenths between the first and the eleventh, Johann Zarco.
"It is incredible the equality that exists and the time in which it has been rolled, a 1.44.5 is a very fast time for this track, to give us an idea, until today, my best lap here with the Aprilia was a 1.45 .7, today we have done 44.5, so riding so fast and with such equality is one more proof of the level of difficulty that exists today in MotoGP".
And in that close fight the two Hondas, Marc Márquez's and his brother Pol Espargaró, sixth and seventh, respectively.
"That means that the bike works, because my brother has also gone very fast, I was happy when I saw the two Hondas in front, I was happy for Pol. It is true that they have more data because recently their test team did a test here, but I'm not surprised, Marc has a lot of speed, in Aragón he was already very fast, then the mistakes came in the race and everything that happened, but during practice he was very fast and the same thing is going to happen here".
On the specific detail that between Pecco Bagnaia, Fabio Quartararo and Aleix they finished in 40 thousandths, the Aprilia rider resorted to his usual euphemism.
"The chewing gum (laughs), you have to stretch it, you have to hold on, we're all together. The truth is, it's curious that in such a different circuit, after three years, with such different bikes, we've made a nailed time, it's incredible. to be very tight".
Looking ahead to Saturday, a completely wet day is announced.
"This hurts Enea Bastianini because she is out of the top ten," Aleix places the Italian in the fight. "I don't know if the others are doing better or worse. The tires here have more degradation than in Misano or Aragón and we won't have much information on Sunday, which is expected to be dry. So the choice will be difficult".
Despite the great equality that exists in the fight for the title, there is no great rivalry or that the contenders are under enormous pressure.
"I am enjoying myself, and I see Fabio enjoying himself a lot, perhaps more than Pecco. I see Fabio on a daily basis, on the flight to here we came together and spent a long time chatting, and I see him as a kid who enjoys of life and he's happy. But there's also a lot of tension."
Aleix refers to a tension more in the sporting plane than in rivalry.
"We are under a lot of tension, today there was little left to finish the session and because of some yellow flags I was 14th and I quickly thought that tomorrow it was going to rain, it was not going to go to Q2 and you complicate the championship, that generates a lot of tension. Look at Bastianini, he has fallen and if it rains tomorrow everything will be complicated, if in the end he has to start from far behind and there is a touch or whatever and he falls, nobody will remember but it will have been because of FP1 Finding the balance between enjoying yourself and managing stress is difficult."
That is why the man from Aprilia considers that getting out in front more and more is vital in MotoGP, almost more to avoid problems than for the mere fact of having to come back.
"It's super important for everything to start at the front, there are drivers who start at the front with no rhythm, and then they follow the carrot until they destroy everything and finish fifth or sixth, that same driver starts eighth and finishes 14th. Other drivers qualify poorly and then do a race, like Alex Rins on Sunday, could have taken the podium perfectly from me, but he started so far back that he didn't make it. Starting in front saves you a lot of trouble and a lot of work, today the time is very important, almost as much or more than the career", settled the one from Granollers.
Aleix Espargaro, Aprilia Racing Team
Photo by: Gold and Goose / Motorsport Images
Aleix Espargaro, Aprilia Racing Team
Photo by: Gold and Goose / Motorsport Images
Aleix Espargaro, Aprilia Racing Team
Photo by: Gold and Goose / Motorsport Images
Cal Crutchlow, RNF MotoGP Racing, Aleix Espargaro, Aprilia Racing Team
Foto de: Gold and Goose / Motorsport Images
Aleix Espargaro, Aprilia Racing Team
Photo by: Gold and Goose / Motorsport Images
Aleix Espargaro, Aprilia Racing Team
Photo by: Gold and Goose / Motorsport Images
Aleix Espargaro, Aprilia Racing Team
Photo by: Gold and Goose / Motorsport Images
Aleix Espargaró, Aprilia Racing Team
Photo by: Gold and Goose / Motorsport Images
Aleix Espargaró, Aprilia Racing Team
Photo by: Gold and Goose / Motorsport Images
Aleix Espargaró, Aprilia Racing Team
Photo by: Gold and Goose / Motorsport Images
Fabio Quartararo, Yamaha Factory Racing, Aleix Espargaro, Aprilia Racing Team
Photo by: Gold and Goose / Motorsport Images
Fabio Quartararo, Yamaha Factory Racing, Aleix Espargaro, Aprilia Racing Team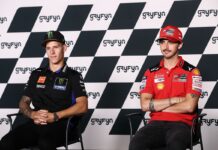 Photo by: Gold and Goose / Motorsport Images
Fabio Quartararo, Yamaha Factory Racing, Francesco Bagnaia, Ducati Team, Aleix Espargaro, Aprilia Racing Team
Photo credit: Gold and Goose / Motorsport Images
Aleix Espargaró, Aprilia Racing Team
Photo by: Gold and Goose / Motorsport Images
Aleix Espargaró, Aprilia Racing Team
Photo by: Gold and Goose / Motorsport Images
Aleix Espargaró, Aprilia Racing Team
Photo by: Gold and Goose / Motorsport Images
Aleix Espargaró, Aprilia Racing Team
Photo by: Gold and Goose / Motorsport Images
Aleix Espargaró, Aprilia Racing Team
Photo by: Gold and Goose / Motorsport Images
Aleix Espargaró, Aprilia Racing Team
Photo by: Gold and Goose / Motorsport Images
Aleix Espargaró, Aprilia Racing Team
Photo by: Gold and Goose / Motorsport Images
Aleix Espargaró, Aprilia Racing Team
Photo by: Gold and Goose / Motorsport Images
Aleix Espargaró, Aprilia Racing Team
Photo by: Gold and Goose / Motorsport Images
Francesco Bagnaia, Ducati Team, Fabio Quartararo, Yamaha Factory Racing, Aleix Espargaró, Aprilia Racing Team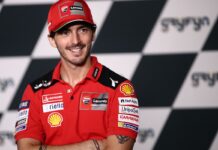 Photo by: Gold and Goose / Motorsport Images