"I didn't expect it, it was a hard blow, a shower of cold water," Enea Bastianini expressed his surprise last Friday, after Motorsport.com announced, the day before, that his track engineer, Alberto Giribuola , at Contrary to what was planned, he was not going to accompany him next season in his jump to the official Ducati team.
It immediately transpired that the former technical boss of Andrea Dovizioso had accepted an offer to go to KTM next year, a path that several members of the Bologna house have taken in recent times.
The first signing of a man with knowledge of all areas of Ducati development came to KTM in 2021, when he enlisted the services of a senior engineer, Fabiano Sterlacchini , who had left Borgo Panigale in 2019.
From there things began to change within the orange structure, which last year announced the dismissal of Mike Leitner as sports director, and the signing of Francesco Guidotti , from Pramac-Ducati, as general coordinator of the team.
The first move, this year for KTM, was to convince Jack Miller to join the official factory team. The Australian was ending his contract, and despite offering him a position at Pramac, being removed from the official factory bike was enough for him to accept the Austrian offer. The next move was to sign Jack's technical boss in the red garage, Cristian Pupulin , another well-versed in all the secrets of Borgo Panigale .
Bastinini removes the coach from Zarco
The news of Giribuola's loss made Bastianini a little nervous, since his first day in MotoGP, last year with Avintia, he always had the help of the experienced Italian technician. "Giribuola is a very important piece for Enea, losing him is a serious problem that must be resolved as quickly as possible," exclaimed the driver's representative.
At Ducati they immediately detected the boy's discomfort and reacted forcefully, by placing, for 2023, the current chief mechanic of Johann Zarco at Pramac, Marco Rigamonti , together with Enea in the factory garage next year.
Motorsport.com asked the Frenchman at Misano on Wednesday if it was confirmed that his current manager was leaving and if he had decided who would replace him. "Yes, we are going to change the coach, we already have a new one for next year, but I don't know if I can say his name. But I'm happy," assured the man from Cannes .
Enea Bastianini, Gresini Racing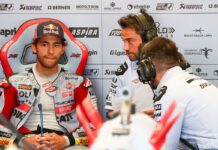 Photo de: Gold and Goose / Motorsport Images
Rigamonti leaves Zarco and goes with Enea to the official Ducati team
Photo by: MotoGP
Jack Miller goes to KTM and takes his technical boss Pupulin
Photo by: Gold and Goose / Motorsport Images