As reported by Motorsport.com on August 29, KTM is working with engineers from the Red Bull Formula 1 team's aerodynamics department to design the silhouette of the fairing for the 2023 RC16.
"Next year we are going to increase the bet on personnel coming from F1. We have a long relationship with Red Bull, which is a winning team, so we know which door to knock on. Red Bull has hundreds of highly experienced aerodynamics specialists. That will be one of the keys in 2023", explained then, in an exclusive interview, Stefan Pierer .
A KTM delegation led by former motocross racers Pit Beirer , now sporting director, and Heinz Kinigadner , a consultant for the orange house, took advantage of the British Grand Prix in early August to visit the Red Bull F1 facility in Milton Keynes , near Silverstone , being absolutely impressed by what they saw and explained to them there.
As a result of the visit, KTM signed a collaboration agreement with Red Bull Technology to develop the aerodynamic package for the 2023 bike, as confirmed by Pierer in the interview.
The KTM test team hopes to receive the first parts from Milton Keynes at the end of November, just in time to schedule, before the winter break, a private test in southern Europe (certainly Jerez , depending on weather forecasts) .
Dani Pedrosa, KTM test and development rider, has scheduled two private tests once the season ends in Valencia, where the grand prix will be held on the weekend of 4 to 6, and the only official MotoGP test day, on Tuesday 8.
From then on, the regular riders will not be able to get on a MotoGP bike until the February tests at Sepan, but this is not the case for the test riders. Specifically, Pedrosa will ride in November and December (in Jerez if the weather is good) to finish adjusting the 2023 bike before the Sepan tests and test the new aerodynamics designed jointly with Red Bull Technology in Milton Keynes.
Dani Pedrosa, Red Bull KTM Factory Racing
Foto de: KTM
Dani Pedrosa. Red Bull KTM Factory Racing
Foto de: MotoGP
Dani Pedrosa. Red Bull KTM Factory Racing
Foto de: MotoGP
Pol Espargaro, Repsol Honda Team, Dani Pedrosa. Red Bull KTM Factory Racing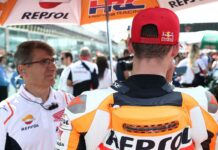 Photo by: MotoGP
Dani Pedrosa, Red Bull KTM Factory Racing
Foto de: KTM
Dani Pedrosa, Red Bull KTM Factory Racing
Foto de: KTM
Dani Pedrosa, Red Bull KTM Factory Racing
Foto de: MotoGP
Dani Pedrosa, Red Bull KTM Factory Racing
Foto de: KTM
Dani Pedrosa, Red Bull KTM Factory Racing
Foto de: KTM
Dani Pedrosa, Red Bull KTM Factory Racing
Foto de: KTM
Dani Pedrosa, Red Bull KTM Factory Racing
Foto de: MotoGP
Dani Pedrosa, Red Bull KTM Factory Racing
Foto de: MotoGP
Dani Pedrosa, KTM RC16 2023
Photo by: German Garcia Casanova
Dani Pedrosa, KTM RC16 2023
Photo by: German Garcia Casanova