Charles Leclerc was the second fastest driver in qualifying at the 2022 F1 United States Grand Prix but, due to several changes to the power unit of his car, he fell several positions back on the starting grid, specifically to twelfth .
That, together with Ferrari's main problem this year, which is none other than the wear of its tires, much higher than that of its rivals in the front area of the grid, made it clear that reaching the podium was a practically impossible task for the Monegasque driver but, finally and after some key events, he crossed the checkered flag third.
While on paper moving from 12th to third on the podium is a pretty positive result, Leclerc didn't see it the same once the race was over. The Ferrari man believes that had it not been for the degradation of his tires, he could have achieved an even better result by taking advantage of Red Bull's pitfall error that placed him ahead of Max Verstappen momentarily, who would ultimately end up winning .
Analyzing the race and still hot, the Monaco-born driver explained that his F1-75 had the pace to compete for more than just third place but that, once again, it was greatly affected by the notorious degradation of its tires.
" I am satisfied with the podium considering that I started from 12th position. It is a good result in that sense. However, the race in general is a bit disappointing ."
"We had the pace, but also, again, we had too much degradation . But yes, in the end, finishing third from twelfth is not bad," said a disgruntled Monegasque driver.
Mattia Binotto , director of the Scuderia, said he was happy with the podium achieved by Leclerc and lamented the misfortune of Carlos Sainz who abandoned on the first lap after an accident after starting from pole position.
"Obviously we have mixed emotions after the race. Through no fault of his own, Carlos had to retire after the first lap. Meanwhile, Charles staged a great comeback that took him to the podium."
The Swiss also agreed with Leclerc's statements regarding the terrible degradation of the Ferrari F1-75 and promised to work on it to solve it for the last races of this year and thinking especially of 2023.
"We know that at the moment we are missing something in the long runs if we compare ourselves with Red Bull . We will continue working to make life difficult for them, starting next week in Mexico and, of course, improving our preparation for the challenges that will come next season", concluded Binotto.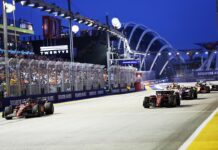 Charles Leclerc, behind the wheel of the Ferrari F1-75 in Austin