Jorge Martín completed three of the four sessions of the official MotoGP test in Misano with the sixth fastest time (1.31.439), adding a total of 117 laps to the Italian track. The Pramac-Ducati rider focused on testing some aerodynamic variables and improving some points of his riding, such as braking and corner entry.
The Madrid rider was one of those chosen by Michelin to test a new front tire compound, called 'G', which the French brand plans to introduce next season in the queen class catalogue.
"It is a tire for the future, next year, it is a compound that is between medium (K) and hard (H), which for situations like the ones we experienced during the Grand Prix weekend, which was a little cold to use the hard one but the medium one doesn't quite work well, being able to use it. Maybe it goes a little better, especially when braking, but I mounted it in the second round and it didn't quite fit me, although I was able to ride fast anyway with that tire.
Regarding specific tests, Martin focused on working for himself.
"Above all we work on the base set-up to be more competitive under braking and we have improved a lot, almost three tenths just under braking, so I am very happy. Despite the changes to win at that point, we do not lose in the corners , which was the important thing. I feel strong for the future," he said.
The Ducati rider also did aerodynamic tests with reused parts, going back a bit.
"We have tested some aerodynamic parts from last year's bike on the fairing of this year's bike to see the effect and understand if we can improve it for 2023, but I haven't tested any new parts yet.
After the exhibition of Ducati in Misano, added to the one that has been accumulating in the last races, Aragón, which is the next race, is a stage in which the Italian machines can impose their dominance.
"We are very strong, Ducati is working very well and not only that, all the brand's riders are also at an incredible level. And although all the bikes right now, looking at the test rhythms, we are very, very strong, The Ducati defends itself well in Motorland and I hope we have a good result".
Martín, in the third session, on Wednesday morning, which was the fastest of the entire test, finished with the sixth fastest time (1.31.439), an FP3 in which Marc Márquez also set his best time (1.31 .642 P10) in his comeback after three months off.
"The truth is that very well, I have been looking at the rhythms and perhaps he lacks consistency, something normal after being without shooting for so long, but he did 1.31.6 which is a great time and we all know what he is capable of".
While Ducati has been experiencing, in the last hours, many technical movements, with the loss of the track engineer for 2023 of Enea Bastianini, who will replace him with the current one of Johann Zarco, Martín hopes to continue with his current structure.
"I am going to keep my current technical team, I feel very comfortable with everyone, both mechanics and technicians and engineers, we understand each other very well, we are finding the way and I have a very good team to be able to fight for great things next year", settled the boy from San Sebastián de los Reyes .
Jorge Martin, Pramac Racing
Photo by: MotoGP
Jorge Martin, Pramac Racing
Photo by: MotoGP
Jorge Martin, Pramac Racing
Photo by: MotoGP
Jorge Martin, Pramac Racing
Photo by: MotoGP
Jorge Martin, Pramac Racing
Photo by: MotoGP
Jorge Martin, Pramac Racing
Photo by: MotoGP
Jorge Martin, Pramac Racing
Photo by: MotoGP
Jorge Martin, Pramac Racing
Photo by: Gold and Goose / Motorsport Images
Jorge Martin, Pramac Racing
Photo by: Dorna
Jorge Martin, Pramac Racing
Photo by: Gold and Goose / Motorsport Images
Jorge Martin, Pramac Racing
Photo by: Gold and Goose / Motorsport Images
Jorge Martin, Pramac Racing
Photo by: Gold and Goose / Motorsport Images
Jorge Martin, Pramac Racing
Photo by: Gold and Goose / Motorsport Images
Jorge Martin, Pramac Racing
Photo by: Gold and Goose / Motorsport Images
Jorge Martin, Pramac Racing
Photo by: Gold and Goose / Motorsport Images
Jorge Martin, Pramac Racing
Photo by: Gold and Goose / Motorsport Images
Jorge Martin, Pramac Racing
Photo by: Gold and Goose / Motorsport Images
Jorge Martin, Pramac Racing
Photo by: Gold and Goose / Motorsport Images
Jorge Martin, Pramac Racing
Photo by: Gold and Goose / Motorsport Images
Jorge Martin, Pramac Racing
Photo by: Gold and Goose / Motorsport Images
Jorge Martin, Pramac Racing
Photo by: Gold and Goose / Motorsport Images
Jorge Martin, Pramac Racing
Photo by: Gold and Goose / Motorsport Images
Jorge Martin, Pramac Racing
Photo by: Gold and Goose / Motorsport Images
Jorge Martin, Pramac Racing
Photo by: Gold and Goose / Motorsport Images
Jorge Martin, Pramac Racing
Photo by: Gold and Goose / Motorsport Images
Jorge Martin, Pramac Racing
Photo by: Gold and Goose / Motorsport Images
Jorge Martin, Pramac Racing
Photo by: Gold and Goose / Motorsport Images
Jorge Martin, Pramac Racing
Photo by: Gold and Goose / Motorsport Images
Jorge Martin, Pramac Racing
Photo by: Gold and Goose / Motorsport Images
Jorge Martin, Pramac Racing
Photo by: Gold and Goose / Motorsport Images
Jorge Martin, Pramac Racing
Photo by: Gold and Goose / Motorsport Images
Jorge Martin, Pramac Racing
Photo by: Gold and Goose / Motorsport Images
Enea Bastianini, Gresini Racing Miguel Oliveira, Red Bull KTM Factory Racing Johann Zarco, Pramac Racing Raúl Fernández, KTM Tech3 Jorge Martín, Pramac Racing
Photo by: Gold and Goose / Motorsport Images
Jorge Martin, Pramac Racing
Photo by: Gold and Goose / Motorsport Images
Jorge Martin, Pramac Racing
Photo by: Gold and Goose / Motorsport Images
Jorge Martin, Pramac Racing
Photo by: Gold and Goose / Motorsport Images
Jorge Martin, Pramac Racing
Photo by: Gold and Goose / Motorsport Images
Jorge Martin, Pramac Racing
Photo by: Gold and Goose / Motorsport Images
Enea Bastianini, Gresini Racing MotoGP, Jorge Martín, Pramac Racing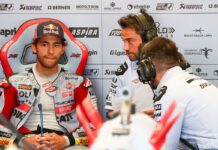 Photo de: Dorna
Jorge Martin, Pramac Racing
Photo by: Dorna
Jorge Martin, Pramac Racing
Photo by: Dorna
Jorge Martin, Pramac Racing
Photo by: Dorna
Jorge Martin, Pramac Racing
Photo by: Gold and Goose / Motorsport Images
Jorge Martin, Pramac Racing
Photo by: Gold and Goose / Motorsport Images
Jorge Martin, Pramac Racing
Photo by: Gold and Goose / Motorsport Images
Jorge Martin, Pramac Racing
Photo by: Gold and Goose / Motorsport Images
Jorge Martin, Pramac Racing
Photo by: Gold and Goose / Motorsport Images
Marco Bezzecchi, VR46 Racing Team, Jorge Martín, Pramac Racing
Foto de: Gold and Goose / Motorsport Images
Marco Bezzecchi, VR46 Racing Team, Jorge Martín, Pramac Racing
Foto de: Gold and Goose / Motorsport Images
Jorge Martin, Pramac Racing
Photo by: Gold and Goose / Motorsport Images