The Japanese Honda test rider, who already took part as a wild card at last year 's Japanese Grand Prix , where he crashed in the race, will return to action this weekend in Thailand, where he will replace the injured Takaaki Nakagami.
In an official statement released by the HRC satellite team, it is stated that "Nakagami will miss this week's Thai GP in Buriram. Tetsuta Nagashima will be the driver for the LCR Honda IDEMITSU team in Buriram."
Nakagami crashed on the first lap of the Aragón Grand Prix race, coming into contact with Marc Márquez. That forced him to undergo surgery on Monday of last week in Barcelona before traveling, that same afternoon, to Tokyo.
In Motegi, the Japanese was seen to suffer unspeakably to put on and take off his gloves in each session, and finally the runner has decided to stop to regenerate the skin of the two fingers that he lost in the fall of Aragón.
"After Sunday's race at Motegi, Nakagami has consulted a specialist in Japan, and after an examination carried out on Tuesday morning, he has been diagnosed with a tendon rupture in his little finger," adds the LCR note.
"Nakagami will undergo further surgery on Friday and hopes to be back for the Australian GP after further evaluation," a race scheduled for two weeks from now.
For Nagashima , this will be his second consecutive race at the handlebars of an RC213V prototype, although this time with the LCR colors, after last year he closed an eight-season stage in the Moto2 World Championship with 87 races, one win and two podiums. .
"First of all, I wish Taka the best and hope that he can come back as soon as possible. I will try to do my best in his place for the LCR Honda IDEMITSU team and try to enjoy the races," says the Japanese in the note.
"I am looking forward to this weekend's event. I had a lot of fun at the Japanese GP and I learned a lot. So, this weekend, I want to continue doing the same because I still have a lot to learn with the MotoGP bike. ", settled the 30-year-old runner from Kanagawa .
Tetsuta Nagashima, Equipo HRC
Foto de: Gold and Goose / Motorsport Images
Tetsuta Nagashima, HRC Team
Foto de: Gold and Goose / Motorsport Images
Tetsuta Nagashima, HRC Team
Foto de: Gold and Goose / Motorsport Images
Tetsuta Nagashima, HRC Team
Foto de: Gold and Goose / Motorsport Images
Tetsuta Nagashima, Equipo Honda HRC
Foto de: Gold and Goose / Motorsport Images
Tetsuta Nagashima, Team Honda HRC bike
Foto de: Gold and Goose / Motorsport Images
Tetsuta Nagashima, Team Honda HRC bike
Foto de: Gold and Goose / Motorsport Images
Tetsuta Nagashima, Team Honda HRC
Foto de: Gold and Goose / Motorsport Images
Tetsuta Nagashima, Team Honda HRC
Foto de: Gold and Goose / Motorsport Images
Tetsuta Nagashima
Foto de: Gold and Goose / Motorsport Images
Tetsuta Nagashima, Team HRC
Foto de: Gold and Goose / Motorsport Images
Enea Bastianini, Gresini Racing, Tetsuta Nagashima, Team HRC, Ai Ogura, Honda Team Asia, Ayumu Sasaki, Sterilgarda Husqvarna Max, Tatsuki Suzuki, Leopard Racing, Kaito Toba, CIP Green Power, Ryusei Yamanaka, MT Helmets  MSI, Taiyo Furusato, Honda Team Asia
Photo by: Dorna
Enea Bastianini, Gresini Racing, Tetsuta Nagashima, Team HRC, Ai Ogura, Honda Team Asia, Ayumu Sasaki, Sterilgarda Husqvarna Max, Tatsuki Suzuki, Leopard Racing, Kaito Toba, CIP Green Power, Ryusei Yamanaka, MT Helmets  MSI, Taiyo Furusato, Honda Team Asia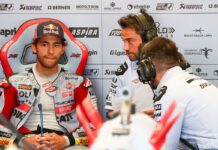 Photo by: Dorna
Enea Bastianini, Gresini Racing, Tetsuta Nagashima, Team HRC, Ai Ogura, Honda Team Asia, Ayumu Sasaki, Sterilgarda Husqvarna Max, Tatsuki Suzuki, Leopard Racing, Kaito Toba, CIP Green Power, Ryusei Yamanaka, MT Helmets  MSI, Taiyo Furusato, Honda Team Asia
Photo by: Dorna
Tetsuta Nagashima, Team HRC, Ryusei Yamanaka, MT Helmets  MSI, Tatsuki Suzuki, Leopard Racing, Enea Bastianini, Gresini Racing, Kaito Toba, CIP Green Power
Photo by: Dorna
Tetsuta Nagashima, Equipo HRC
Foto de: Motorsport.com / Japan