"It is with incredible sadness that the Read family reports the passing of Phil Read in his peaceful sleep on the morning of October 6, 2022, at his home in Caterbury, England," it was reported through social media of the passing of ' The Prince . of Speed' , as Read was known when he was at the height of his career.
Named a Knight of the British Empire, Read passed away at the age of 83 and a dazzling record, which includes seven world titles, two in 500cc, four in 250cc and one in 125cc, in addition to a total of 52 victories in the four categories in the that competed, eleven of them in the queen class. Read made his World Championship debut in 1963, contesting his last race in 1976.
Read's legendary track record further enhanced his brilliance by taking on true racing monsters like Giacomo Agostini , Mike Hailwood and Barry Sheene .
The British rider's first victory in the World Championship was in 1961, at the Isle of Man TT, when he won the 350cc category riding a Norton. His first world championship came in 1964, in the 250cc category, which was also the first world championship for Yamaha. Read's last victory was at the 500cc Czechoslovakian GP in 1975 with MV Agusta, a brand for which he won the 500 title the previous year, the seventh and last championship of ' The Prince of Speed'.
Check here the biography and statistics of Phil Read in the Motorcycle World Championship.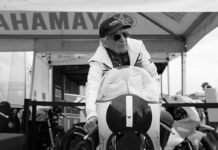 Phil Read MBE, first world road racing champion in Yamaha history
Photo by: Yamaha MotoGP