Yamaha announced in June that it had hired the services of Italian consultant Luca Marmorini , a former Ferrari driver who, until last year, had collaborated with Aprilia on the design of its engine at the express wish of Maximo Rivola , with whom he had coincided in the team. of Italian Formula 1.
The first prototype produced by the Japanese engineers at Iwata in which Marmorini has been involved was put on track during the Misano tests held this week and the result left the brand's drivers, Fabio Quartararo and Franco Morbidelli, enthusiastic.
During the work sessions in Misano, Marmorini could be seen in the team garage, supervising the launch of the engine.
"I am excited that we have confirmed that the engine offers a lot of progress," said Quartararo on Wednesday afternoon at the end of the test, in which he set the fastest time under the absolute track record (1.31.054).
"Wednesday morning I was testing and the top speed was really good. I'm very happy, we also worked on the electronics because the engine has a bit of a different character" compared to the current one.
"It is difficult to be sure because of the track conditions, but I did a 1.31.3 with a tire that had 26 laps and when I put on a new tire I did not feel much difference. But I am very happy to be the first test with a prototype, I had very good rhythm and it feels good", Fabio added enthusiastically.
"Obviously we still have to work a bit more in the first phase of acceleration. The bike is a bit more lazy than aggressive, that's what we worked on Wednesday morning.
One of the obvious improvements was the top speed shown by the M1 with the new engine.
"He has made a lot of progress" he said after setting a top speed of 298 km/h, 1.3 km/h better than during Q2 at Misano, a jump that, however, he will not be able to enjoy until next season.
"It's going to be hard in Aragon to get back on the 2022 bike," he said with a laugh. "That will be the most difficult."
With plenty of room until the Sepag tests in February, Quartararo hopes to improve further.
"They still hope to improve. Of course, I will not say no if they have room for it. It's quite nice, because we are only in September and there are still a few months before the pre-season tests, until Portimao we still have a lot of training and I hope more. top speed".
The hiring of Marmorini was one of Yamaha's responses to Quartararo's demands to renew his contract, since the Frenchman wanted gestures from the manufacturer so as not to listen to outside offers.
"I never lost faith in Yamaha, but I had a lot of doubts. That's why it took me so long to sign the renewal. I felt that they wanted to make a big change to the engine, so I got my confidence back by signing my contract. I felt that they wanted a change. It seems that they have achieved it and there are smiling faces in the team, but the atmosphere that is breathed is one of wanting more, and that gives me confidence".
Fabio Quartararo, Yamaha Factory Racing
Photo de: MotoGP
Fabio Quartararo, Yamaha Factory Racing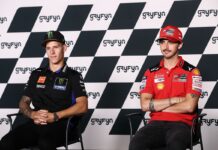 Photo de: MotoGP
Fabio Quartararo, Yamaha Factory Racing
Photo de: MotoGP
Fabio Quartararo, Yamaha Factory Racing
Photo de: MotoGP
Fabio Quartararo, Yamaha Factory Racing
Photo de: MotoGP
Fabio Quartararo, Yamaha Factory Racing
Photo de: MotoGP
Fabio Quartararo, Yamaha Factory Racing
Photo de: MotoGP
Fabio Quartararo, Yamaha Factory Racing
Photo de: MotoGP
Fabio Quartararo, Yamaha Factory Racing
Photo de: MotoGP
Franco Morbidelli, Yamaha Factory Racing
Photo de: MotoGP
Franco Morbidelli, Yamaha Factory Racing
Photo de: MotoGP
Franco Morbidelli, Yamaha Factory Racing
Photo de: MotoGP
Fabio Quartararo, Yamaha Factory Racing
Photo de: MotoGP
Fabio Quartararo, Yamaha Factory Racing
Photo de: MotoGP
Fabio Quartararo, Yamaha Factory Racing
Photo de: MotoGP
Franco Morbidelli, Yamaha Factory Racing
Photo de: MotoGP
Franco Morbidelli, Yamaha Factory Racing
Photo de: MotoGP
Fabio Quartararo, Yamaha Factory Racing
Photo de: Yamaha MotoGP
Fabio Quartararo, Yamaha Factory Racing
Photo de: Yamaha MotoGP
Fabio Quartararo, Yamaha Factory Racing
Photo de: Yamaha MotoGP
Fabio Quartararo, Yamaha Factory Racing
Photo de: Yamaha MotoGP
Fabio Quartararo, Yamaha Factory Racing
Photo de: Yamaha MotoGP
Fabio Quartararo, Yamaha Factory Racing
Photo de: Yamaha MotoGP
Fabio Quartararo, Yamaha Factory Racing
Photo de: Yamaha MotoGP
Fabio Quartararo, Yamaha Factory Racing
Photo de: Yamaha MotoGP
Franco Morbidelli, Yamaha Factory Racing
Photo de: Yamaha MotoGP
Franco Morbidelli, Yamaha Factory Racing
Photo de: Yamaha MotoGP
Franco Morbidelli, Yamaha Factory Racing
Photo de: Yamaha MotoGP
Franco Morbidelli, Yamaha Factory Racing
Photo de: Yamaha MotoGP
Franco Morbidelli, Yamaha Factory Racing
Photo de: Yamaha MotoGP
Franco Morbidelli, Yamaha Factory Racing
Photo de: Yamaha MotoGP
Fabio Quartararo, Yamaha Factory Racing
Photo de: MotoGP
Franco Morbidelli, Yamaha Factory Racing
Photo de: MotoGP
Franco Morbidelli, Yamaha Factory Racing
Photo de: Yamaha MotoGP
Franco Morbidelli, Yamaha Factory Racing
Photo de: Yamaha MotoGP
Franco Morbidelli, Yamaha Factory Racing
Photo de: Yamaha MotoGP
Franco Morbidelli, Yamaha Factory Racing
Photo de: Yamaha MotoGP
Fabio Quartararo, Yamaha Factory Racing
Photo de: MotoGP
Fabio Quartararo, Yamaha Factory Racing
Photo de: Yamaha MotoGP
Fabio Quartararo, Yamaha Factory Racing
Photo de: Yamaha MotoGP
Fabio Quartararo, Yamaha Factory Racing
Photo de: Yamaha MotoGP
Fabio Quartararo, Yamaha Factory Racing
Photo de: Yamaha MotoGP
Fabio Quartararo, Yamaha Factory Racing
Photo de: Yamaha MotoGP
Fabio Quartararo, Yamaha Factory Racing
Photo de: Yamaha MotoGP
Franco Morbidelli, Yamaha Factory Racing
Photo de: MotoGP
Fabio Quartararo, Yamaha Factory Racing
Photo de: MotoGP
Fabio Quartararo, Yamaha Factory Racing
Photo de: MotoGP
Fabio Quartararo, Yamaha Factory Racing
Photo de: MotoGP
Fabio Quartararo, Yamaha Factory Racing
Photo de: MotoGP
Franco Morbidelli, Yamaha Factory Racing
Photo de: MotoGP