Red Bull started the 2022 Formula 1 season with some doubts, especially on the reliability side of the RB18, although at the performance level it also seemed to be a small step below its then closest rival, Ferrari.
However, both teams have exchanged roles during the course of the course, first in the reliability section and later in performance, something that has made the Austrian team reach the last races of the season with a superiority more How remarkable that it will allow you to seal both titles long before the last appointment.
The pace that Max Verstappen has shown above all in the last three races since Formula 1 returned from its famous summer break has surprised everyone, including experts and also rival teams, although among neutral fans it has caused another feeling: fear.
With a regulation that, except for some "anti-porpoising" modifications, will be very similar to that of this 2022, there is the possibility that Red Bull will sweep each and every one of the races next season if any of its rivals do not give the chime with an extremely competitive single-seater. However, from the Austrian team they affirm that there are no guarantees of this.
"Next year we have some rule changes and we have less resources than our rivals in terms of aerodynamics or wind tunnel hours and CFD for our results in the constructors' championship."
"I could counter that we have the best employees in our factory, but that is perhaps a bit self-centered view."
"So I'm not sure that this year's performance can carry over into 2023, I can't say that the final stretch of this season will be beneficial for us next year.
Continuing with his statements, Paul Monaghan , chief engineer of Red Bull , explained that although he does believe that they will once again be one of the most competitive teams on the grid, they will have to make better use of their resources than their rivals to, at least, equal their profits or losses.
"We have to move at least at the pace of our rivals . We have to manage well the rule changes for the height of the edges of the ground, as well as the change in stiffness, trying to lose less than our rivals or at most the same amount."
"Obviously I think we'll still be competitive next year. But if the question is can we repeat what we're doing right now, I'm not sure."
"We'll do the best job we can with some of the best people in the pitlane, and then we'll judge what we've been capable of after one, two or three races, right?" concluded the chief engineer of the energy drinks structure.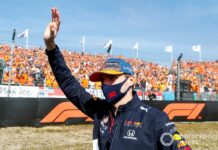 Max Verstappen, winner of the 2022 Formula 1 Italian Grand Prix.
---
Do you want to read our news before anyone else and for free? Follow us here on our Telegram channel and you won't miss a thing. All the information, at your fingertips!