The first day of activity on the track at the 2022 Formula 1 United States Grand Prix was somewhat strange, and that is that in the session that opened the weekend saw the debut of up to four drivers in the highest category of motorsport, although all they would give up the seat to the starter on the respective teams, and in the second practice they used the hour and a half to test Pirelli 's 2023 prototype tires.
Already with all the main protagonists on the track, Max Verstappen climbed to the top of the table for the first time in Austin to finish as the fastest in the third free practice, leaving his Ferrari rivals behind, with Charles Leclerc to more than three tenths and Carlos Sainz in third place.
The second of the Red Bull, who will have to add five positions to his original place in the standings, Sergio Pérez, was fourth, and just behind was placed a surprising Lewis Hamilton, who with six laps of soft rubber managed to be fifth, beating Fernando Alonso and his Alpine, George Russell and another of those who did very well with Aston Martin, Sebastian Vettel. To complete the top ten, and already above the second barrier, Lance Stroll and Pierre Gasly's AlphaTauri remained.
Results of Free Practice 3 (FP3) of the United States GP 2022 F1
Cla
Pilot
Chassis
laps
Weather
Difference

1

Max Verstappen

Red Bull

22

1'35.825

 

2

Charles Leclerc

Ferrari

18

1'36.145

0.320

3

Carlos Sainz Jr.

ferrari

24

1'36,271

0.446

4

Sergio Pérez

Red Bull

20

1'36.397

0.572

5

Lewis Hamilton

Mercedes

17

1'36.401

0.576

6

Fernando Alonso

Alpine

14

1'36.928

1.103

7

George Russell

Mercedes

21

1'37.064

1.239

8

Sebastian Vettel

Aston Martin

19

1'37.151

1.326

9

Lance Stroll

Aston Martin

20

1'37.215

1.390

10

Pierre Gasly

AlphaTauri

18

1'37,290

1,465

see results
Max Verstappen, Red Bull Racing RB18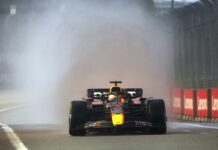 Foto de: Mark Sutton
Lance Stroll, Aston Martin AMR22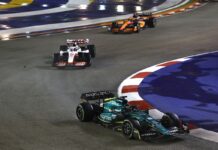 Foto de: Glenn Dunbar
Charles Leclerc, Ferrari F1-75
Photo By: Andy Hone/Motorsport Images
Alex Palou, McLaren MCL36
Foto de: Steven Tee / Motorsport Images
Zhou Guanyu, Alfa Romeo C42
Foto de: Mark Sutton / Motorsport Images
Yuki Tsunoda AlphaTauri AT03
Photo by: Mark Sutton / Motorsport Images
Tre Cool from Green Day in the McLaren garage
Photo by: Steven Tee / Motorsport Images
Sergio Perez, Red Bull Racing RB18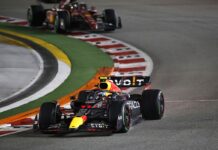 Photo by: Glenn Dunbar / Motorsport Images
Sergio Perez, Red Bull Racing RB18
Photo by: Zak Mauger / Motorsport Images
Sergio Perez, Red Bull Racing RB18
Photo by: Andy Hone / Motorsport Images
Sergio Perez, Red Bull Racing RB18
Photo by: Andy Hone / Motorsport Images
Sergio Perez, Red Bull Racing RB18
Photo by: Andy Hone / Motorsport Images
Robert Shwartzman, Ferrari F1-75
Foto de: Glenn Dunbar / Motorsport Images
Pierre Gasly, AlphaTauri AT03
Photo by: Andy Hone / Motorsport Images
Nicholas Latifi, Williams FW44
Foto de: Mark Sutton / Motorsport Images
Summary of Free Practice 3 (FP3) of the 2022 F1 United States GP
Saturday's session began later than usual at the Circuit of the Americas, as the third free practice session began at night for the European public. However, Friday, which saw many rookies on tarmac and next season's Pirelli tire tests, would make the final practice key to qualifying and the race.
The drivers rushed out onto the track to take advantage of the time they had available to fine-tune their cars, and Aston Martin did not hesitate to bring out Sebastian Vettel and Lance Stroll, who delighted everyone present. The rest imitated the movement of those from Silverstone immediately after, which caused the favorites to respond to impose their authority from the first minutes.
All with the softest rubber in the range, except Carlos Sainz, who was in the middle, set a time that placed them at the top, with Charles Leclerc ahead of Max Verstappen and Sergio Pérez, who faced a penalty of five positions for changing the internal combustion engine of his RB18. Behind, others took it more calmly, like the Mercedes, which only started with George Russell, but it seemed that the teams preferred to do an installation lap to check that everything was in place.
Before reaching the 10-minute session, the first scare was given by Mick Schumacher, and that is that the German was riding very slowly on the finish straight, in what seemed like a plastic bag was blocking some conduit, but in reality it was of a problem with the transmission. Thus, the Haas man was ordered to slowly return to the garage, while Esteban Ocon placed fifth in his Alpine, ahead of the Alfa Romeos of Valtteri Bottas and Guanyu Zhou.
The battle for first position was very interesting, with Sergio Pérez beating the Monegasque's Ferrari with a time of 1:37.338 , but he was waiting for the rest and his second lap in qualifying mode. Just a few seconds later, Leclerc returned to the top, although it did not last long, as Verstappen clocked a 1:36.706 to impose his dominance after proclaiming himself two-time world champion.
Fernando Alonso, for his part, pending confirmation of a penalty for mounting a new element in his power unit, placed fourth on his first attempt, seven tenths behind the other two-time world champion on the grid. The other Spaniard from Ferrari also improved his time to take third, although he was at a disadvantage, as he rode on the medium tyre, while the rest did so on the soft.
At that point in the session, the FIA confirmed the penalties for Charles Leclerc and the Spaniard from Alpine, who will face a penalty of ten and five positions respectively on Sunday's starting grid. That did not matter to Lewis Hamilton, who in his Mercedes, despite still suffering from the rebound of the W13, was able to climb to second place on the softer compounds, displacing Max Verstappen and both Ferraris to third, fourth and fifth place.
Checo Pérez was with the fastest time with 20 minutes to go before the checkered flag, but Red Bull was working on the settings, especially in height and stiffness. They were not the only ones, since except for a few brave people who were still riding, they were all in their boxes trying to find the ideal configuration for qualifying.
Who did not seem that he was going to leave was Mick Schumacher, since Haas continued to fix his car after suffering problems with his gearbox, quite the opposite of George Russell, who began to push to get out of the tenth position in which he was stalled with his Mercedes. The surprises of the weekend were the Aston Martins, who in addition to having a good Friday, were on their way to achieving great results in third free practice, with Vettel seventh and Stroll ninth, sandwiched between the Alpines.
The soft tires came to the fore with only a quarter of an hour to go, and when Hamilton was on his best lap, he made a mistake in the penultimate corner, forcing him to abort his attempt. The favorites were waiting for their moment, and everyone except Sainz got on the asphalt for one last lap to prepare for qualifying a few hours later.
With just over 10 minutes to go , Max Verstappen made a mistake early on his lap, so he had to do like the seven-time Mercedes champion and slow down to try again. The Dutchman quickly forgot what had happened to get first and beat his teammate, while Leclerc was only 10 thousandths behind his Red Bull rival, just as the other of the Maranello cars took to the asphalt with a new game of soft.
The Madrid driver seemed to be in contention with his first sector, but in the second he encountered some traffic and was third, 48 thousandths behind Verstappen. Nobody was improving except Leclerc, Alonso and Verstappen, the latter making the best of times with a 1:35.825 , while the Monegasque had to settle for second position and the Spaniard with sixth place.
---
Do you want to read our news before anyone else and for free? Follow us here on our Telegram channel and you won't miss a thing. All the information, at your fingertips!