The Catalan pilot starred in a 2021 full of ups and downs. Viñales won the first race of the season in Qatar and it looked like it could be his year, but from then on things went from bad to worse. While his teammate Fabio Quartararo gradually became the leader of Yamaha , on the box side of Roses (Girona) the continuous problems that have haunted him since he signed for the brand in 2017 returned.
The situation became critical at the beginning of the summer and he asked to break the contract that bound him until 2022 at the end of the season. After agreeing to leave at the end of the course, Aprilia signed him for next year, but the relationship with Yamaha became even more twisted back from vacation. Viñales was accused by the brand of trying to sabotage the M1 and ended up being fired with immediate effect.
Aprilia took advantage of the situation to get on the RS-GP in the last five races of the championship and advance work towards 2022, but Viñales found himself a very different bike from the M1 and was barely able to score points in two races in a marked season finale largely due to the death of his cousin, Dean Berta.
At the end of the season, Viñales went to the Milan Motorcycle Show (EICMA), where he was asked how he valued the change from Yamaha to Aprilia.
"Very happy, I needed a big change, especially because of my driving style. I am very satisfied to have made this decision," Viñales told Sky Italia .
"We are not at the level. It is true that I make good times, but I still don't feel like my bike. I feel that the potential is very good because I make good times and I still don't feel like one with the bike. There is a lot of potential to extract" .
The #12 continued with the adaptation to the RS-GP in the Jerez test. Despite the fact that next year's model was not available, he finished with the eighth fastest time in the aggregate and was satisfied with the work carried out.
"After the test I was very happy. I did the time with the used tire and I didn't do it before. It went better than I expected. In Jerez it was very difficult because there was a lot of wind. I ended up very satisfied, because in the end I think we put together a pretty good package. We have to keep improving, a bit the chassis, a bit of ergonomics, a bit of everything, "he clinched.
Times: this is how the starting grid would look after the MotoGP test in Jerez
23º Darryn Binder, RNF Racing – 1:39.941
Foto de: Gold and Goose / Motorsport Images
22nd Marco Bezzecchi, VR46 Racing team – 1: 39.312
Photo de: Gold and Goose / Motorsport Images
21º Remy Gardner, KTM Tech3 – 1:38.728
Foto de: Gold and Goose / Motorsport Images
20th Raúl Fernandez, KTM Tech3 – 1:38.691
Photo by: Gold and Goose / Motorsport Images
19th Fabio Di Giannantonio, Gresini Racing – 1: 38.528
Photo de: Gold and Goose / Motorsport Images
18º Jorge Martin, Pramac Racing – 1:38.435
Foto de: Gold and Goose / Motorsport Images
17th Aleix Espargaró, Aprilia Racing Team – 1:38.149
Photo by: Gold and Goose / Motorsport Images
16º Miguel Oliveira, Red Bull KTM Factory Racing – 1:38.085
Foto de: Gold and Goose / Motorsport Images
15º Andrea Dovizioso, RNF Racing – 1:38.029
Photo by: Gold and Goose / Motorsport Images
14th Luca Marini, VR46 Racing Team – 1:38.025
Photo by: Gold and Goose / Motorsport Images
13º Brad Binder, Red Bull KTM Factory Racing – 1:37.942
Foto de: Gold and Goose / Motorsport Images
12º Franco Morbidelli, Yamaha Factory Racing – 1:37.884
Foto de: Gold and Goose / Motorsport Images
11th Alex Marquez, Team LCR Honda – 1:37.760
Photo by: Gold and Goose / Motorsport Images
10º Jack Miller, Equipo Ducati – 1:37.717
Foto de: Gold and Goose / Motorsport Images
9th Joan Mir, Team Suzuki MotoGP – 1:37.634
Photo by: Gold and Goose / Motorsport Images
8º Maverick Viñales, Aprilia Racing Team – 1:37.622
Foto de: Gold and Goose / Motorsport Images
7th Pol Espargaro, Repsol Honda Team – 1:37.496
Photo by: Gold and Goose / Motorsport Images
6º Alex Rins, Team Suzuki MotoGP – 1:37.423
Foto de: Gold and Goose / Motorsport Images
5th Enea Bastianini, Gresini Racing – 1: 37.402
Photo de: Gold and Goose / Motorsport Images
4º Johann Zarco, Pramac Racing – 1:37.356
Foto de: Gold and Goose / Motorsport Images
3º Fabio Quartararo, Yamaha Factory Racing – 1:37.324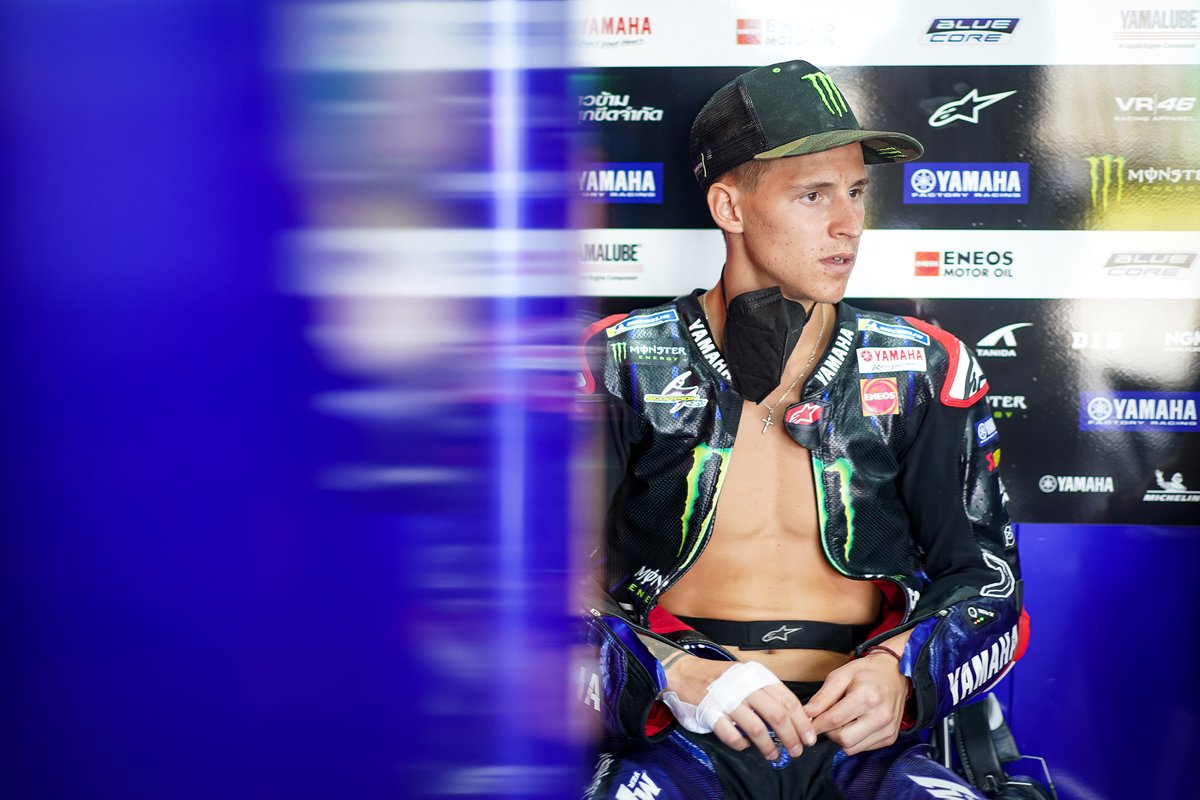 Photo by: Gold and Goose / Motorsport Images
2º Takaaki Nakagami, Team LCR Honda – 1:37.313
Photo by: Gold and Goose / Motorsport Images
1st Francesco Bagnaia, Team Ducati – 1:36.872
Photo by: Dorna